Filter Media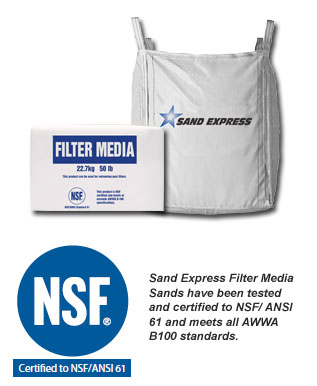 Sand Express Filter Media sands and aggregates are precisely graded to meet the requirements of swimming pool filters and municipal wastewater filtration systems.
The high silica content (93%+) aggregate is washed, kiln dried and uniformily graded to meet effective size and uniformity coefficient specifications. The chemically inert aggregates will not degrade or react with acids or other contaminants.
Standard filter sands gradations and filter gravel are available. Custom sand and gravel gradations can be produced to meet exact specifications.
Filter Media Sand:
Filter Gravel
6/10
8/16
10/20
16/40
20/40
40/70
Extra Fine (Sugar Sand)
Product Availability:
50 lb plastic bags
2000 lb bulk bags
3000 lb bulk bags
Bulk Delivery